The Secret of Getting Ahead
IS GETTING STARTED!
Web Design + SEO in Vietnam by AMPD Studio
The Secret of Getting Ahead
IS GETTING STARTED!
Web Design + SEO in Vietnam by AMPD Studio
Web Design & Development
AMPD IS
3

LINGUAL

We speak concept, usability, functionality
RESPONSIVE WEB DESIGN
Reap the benefits of 10+ years of our web design experience
Affordable web design with a transparent structure
Step-by-step, your website will turn into a powerful tool
Check out our design portfolio to see previous projects
Located in Vietnam, we work worldwide in English & German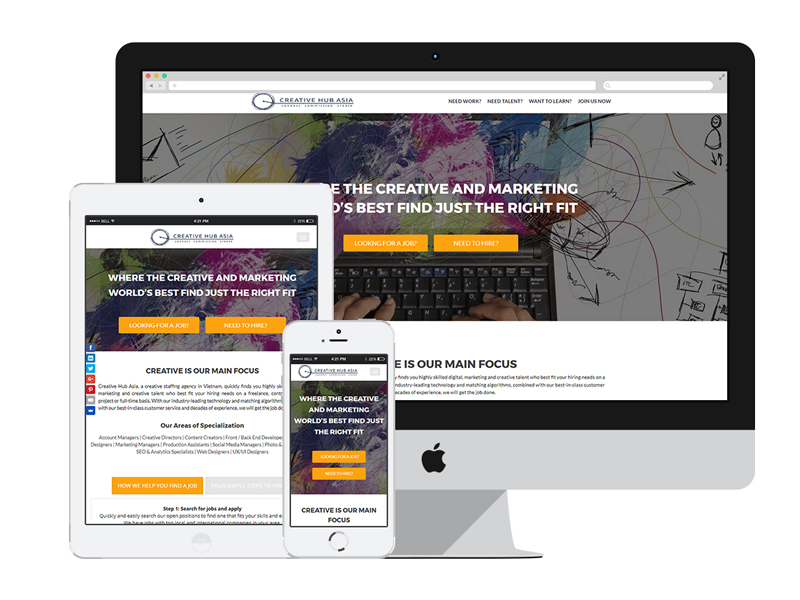 We offer custom WordPress web design solutions. Our core activities include concept, creation, and implementation of internet strategies and websites with your business goals in mind.
Our approach is simple but powerful – determined to fulfill your needs. We provide dedicated project management and support, as well as individual web design solutions. 10+ years of work experience, know-how in marketing, web development and content creation will save you time & money.
After all, we know what's good for you!
Get in touch now if you need a new website designed by AMPD Studio.
 STRATEGY
Consultation &  Research
Concept Development
Content Creation & Management
Search Engine Optimization (SEO)
Our approach is simple but powerful. 10+ years of work experience with international clients has taught us a lot. Our know-how in strategical planning and web development will save you time, money and worries. we are able to create meaningful content and visuals for your website which is optimized for search engines in English, German & Vietnamese.
  WEB DESIGN
HMTL5, CSS3, SEO
Responsive Design
Custom Design Templates
Customized CMS
Do you need a website for your brand or company, online magazine, e-shop or blog? Anything is possible with WordPress. WordPress is the most popular publishing software that has evolved to be used as a full content management system. Let us develop every element of your website based on your specific needs and provide you with a web presence to impress your target audience.
WHY AMPD Studio?
AMPD Studio creates engaging concepts to establish, position or revive your idea, brand, product or service.
Basically, we develop web concepts! Step-by-step we'll take you through the journey of turning your business objectives into an online reality. After we finish our part, you will have a website that will work for you while you're working on your business. Our motto is to listen,  discuss & advise. Only together, we can select the best web solution to fit your needs and budget.
A web design process gives you as a client an overview of the various website development stages.
It is an outline of the steps needed from start to finish in order to complete a website project.
1. MEETING
You talk, we listen… most of the time. We discuss your business goals, web design ideas and the vision of your brand new website.
2. RESEARCH
After our meeting, we'll start researching your domestic & international market, target audience and competitors.
3. CONECPT
Based on your needs and my research outcome, we will create a holistic concept tailored to your wants and needs.
4. PROTOTYPE
The production of the website prototype includes screen design, programming and integration of applications and functions.
5. PRESENTATION
Now you can test and inspect the website prototype. You'll receive a password protected URL to view your website live and in color.
6. REVISION
Once you're done exploring your new website and provide me with your feedback, we will implement your suggested revisions.
7. TESTING
Your website is almost ready to go! In this final stage,  we'll test functionality, display, optimization and validation of your website.
8. LAUNCH
Congratulations, your website is ready to let your brand shine and leave a unforgettable impression on the world wide web.
My web design portfolio includes responsive web design, development, digital marketing & content strategy.
All websites are created using the powerful technology of WordPress  (unless otherwise specified).
---
CONTACT US TO REQUEST QUOTE
ARE YOU READY TO BUILD / UPGRADE YOUR WEB PRESENCE YET?